Galleria Café Breakfast
Hours
Breakfast Buffet
7:00AM - 10:00AM (Last Call 10:00AM)
Main Dish
7:00AM - 11:00AM

Operation hours, menu, and prices are subject to change without notice.


Breakfast Buffet
Price: Adult 3,400JPY/ 9-12 years old 2,600JPY/ 4-8 years old 2,100JPY
Breakfast Menu

Salad Bar
Cold Dishes (4 items from below)
・Smoked Salmon
・Suzzet Salami
・Paprika Riona Ham
・Smoked Bologna Sausage
・Macaroni Salad
・Potato Salad
・Pumpkin Salad
Salad Dressing (3 items from below)
・Japanese
・Lemon
・French
・Thousand Island
・Caesar
Japanese Appetizers (Cold / 10 items from below)
・Salted Plum
・Japanese Style Omelet
・Kamaboko Boiled Fish Cake
・Sakura Colored Daikon Radish Pickles
・Kyoto style Vegetable Pickles
・Boiled Urayasu Kombu Kelp
・Tusukudani Fish (boiled in sweetened soy sauce)
・Hijiki Seaweed
・Kinpira-style Chopped Root Vegetables
・Sliced and Dried Daikon Radish
・Boiled Bok Choy
・Kinugoshi/Momen Tofu
Miso Soup
・Fried Tofu and Seaweed
・Tofu and Nameko Mushroom
Daily Soup (1 items from below)
・Corn Soup
・Pumpkin Soup
・Carrot Soup
Japanese Appetizer (Hot / 1 item from below)
・Nikujaga Boiled Meat and Potato
・Chikuzenni Braised Chiken and Vegetable
・Boiled Deep Fried Tofu and Green Beans
Steamed Vegetables
Meat
・Bacon
・Sausage
・White Sausage
Fried Fish (2 items from below)
・Salmon
・Kyoto-style Grilled Fish with Miso Paste
・Fried Horse Mackerel in Salty Malted-Rice
Deep Fries (1 item from below)
・Crab Cream Croquette
・Corn Cream Croquette
French Fries
Pasta (1 item from below)
・Tomato Sauce
・Japanese style Pepperoncino
Egg Dishes
・Scramble Eggs
・Omelet
Rice
・Rice with Mushrooms
・White Rice
Noodles (1 item from below)
・Udon
・Soba
*Served with Noodle soup and condiments
Breads
Cakes
・Bread Pudding
・Waffles
・French Toast
・Pancakes
Yogurt
Cereals
Signature Main Dishes of the Day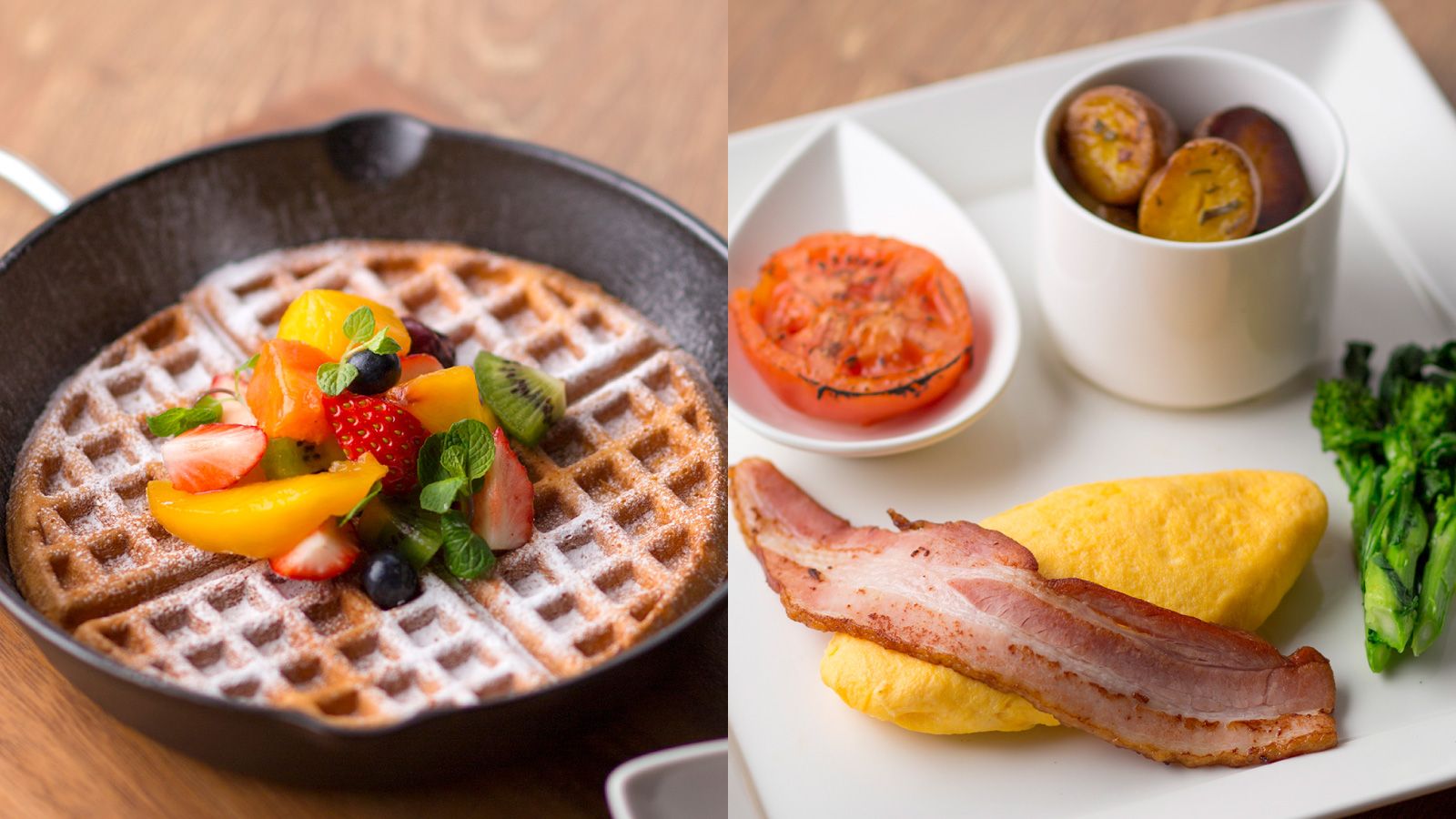 Price: 1,500 JPY each

Waffle with Mixed Fruits
or
Omelet with Parmesan Cheese and Ham (served with bread)
*Ingredients are subject to change due to market situation.
*Prices include tax and service charge.
Galleria Café
Located In 1-9 MaihamaUrayasuCBJP
Breakfast

7:00AM - 11:00AM (Last Order 10:00AM)

Lunch - Dinner

11:00AM - 12:00 Midnight (Last Order 11:30PM)